Meet Dr. Lee Eklund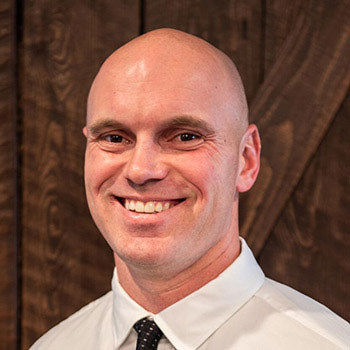 Since 2009, Dr. Lee Eklund has delivered modern, progressive chiropractic care to families wishing to eliminate their pain, optimize their wellness potential, and enjoy a better life. At Eklund Chiropractic we welcome every member of the community, from babies and children to parents and grandparents. We emphasize a gentle and customized approach to improving your health.
Understanding True Health
Dr. Eklund has always been involved in sports. While running high school track, he injured his low back to a point he could barley walk. He started receiving chiropractic care which helped him to recover and was able to continue his high school athletic career. He was even able to go on to play college football for the University of SD and Black Hills State University. He remains very active with golf, CrossFit, and being a busy dad with 3 beautiful children. Dr. Eklund's injury really fueled his passion to help and care for people to get the most out of life through chiropractic care.
Dr. Eklund is a member of Epic Pediatrics, the Spearfish Chamber of Commerce, National Wellness Foundation and the South Dakota Chiropractic Association. He really enjoys working with the students and athletes from Black Hills State University.
After graduating from Northwestern Health Sciences in Bloomington, Minnesota in 2008. Dr. Eklund received his Bachelor of Science of Human Biology and Doctor of Chiropractic. The most appealing part of becoming a chiropractor is focusing on health, rather than sickness and disease. It's inspiring and exciting.
My internship with a chiropractic neurologist and my many years in practice have shown me the far-reaching effects of chiropractic care. It's given me an understanding of what true health is all about.
Loving Life in Spearfish
Between the office and his family, Dr. Eklund stays busy and active. He and his beautiful wife, Sarah, have three children: Eli, Gannon and Emmy. When Dr. Eklund isn't shuttling kids to activities, you will find him doing Crossfit or golfing. In addition, he and his family like to spend time hiking around the Black Hills, visiting the Fish Hatchery, downhill skiing at Terry Peak Ski Area, and spending as much time as they can at the lake in the summer.
He and his family are active in their church at Grace Fellowship, enjoy watching their watching their daughter dance at Black Hills Dance Centre , and cheering their middle son on at his soccer games. They also love to watch both sons excel in Brazilian Jiu-Jitsu and Taekwondo at Spearfish Martial Arts. Dr. Eklund and his family are very proud to be apart of this wonderful community!
Our office is family-friendly, and consultations are always FREE. Contact us today!
---
Dr. Lee Eklund | (605) 717-9314